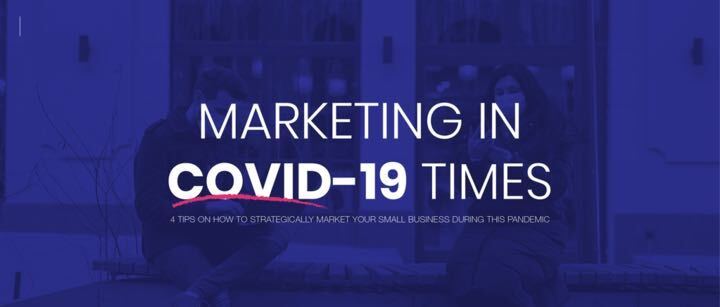 During this pandemic business owners need to take charge of their creative marketing. Businesses have been challenged with reaching their customers in effective ways during these times. Having appropriate creative marketing strategies will help you reach your customers in a timely manner. Your content matters so remember to be as mindful to your audience as possible. Make them feel safe, welcomed, and appreciated with your brand's best real-time marketing schemes. Don't let your business suffer from COVID-19 when there are plenty of new opportunities awaiting you. Here is a list of tips to help you with your brand's creative marketing during the pandemic.
1. Focus on developing a secure relationship with your audience
Good brands are reliable, customers want to be able to depend on your brand for consistency, even during a crisis. Your customers are bound to interact with brands they believe are responsive to their immediate needs. Brands like Google have remained responsive to the needs of their audiences. Since the crisis, they have even begun giving small business grants. This shows customers that they are consistent with helping their audience, even during a crisis. Good brands usually have one of the same successful goals, and that is to build a direct bond with your customers. During these times, a secure and empathetic bond will let them know they can rely on your services to get the job done.
2. Offer personalized website optimization for customers
Give your customers the luxury of being able to pick up from where they left off. This will allow for more customers to come back to your site and eventually purchase from you. Ultimately we want to spark a thought in your customers brain to remind them to purchase what they were last looking at on your site. You can transform your site to revert back to a brand or category your visitor last viewed, which will allow them to better access where they left off. Using geo-targeted showcases to update store safety rules, inventory, and policies will save time and will provide your site with better accuracy.
3. Highlight How your brand can help
Provide helpful products and services for your customers that can help them in their current situation. Does your product provide things people do at home? Does it help people improve their current situation?
Communicate the benefits of your products and services by providing clarity to your brand's potential value during a crisis. Provide value to your products by creating helpful content that can help entertain, educate and inspire people.
4. Reevaluate your Marketing Goals, and Campaigns to align with COVID-19
Making sure your brand stays alive during this pandemic is up to you. Make the best of it, and realign your goals and content to match what is currently happening in the World. Is your brand's creative marketing in correlation to the crisis at hand? If not, you need to adjust your marketing campaigns. Consider what your brands priorities are, put them first, and don't be afraid to take out any information on your site that is not being used or ranked during this time.
Conclusion
Based on what you've learned from our 4 Valuable tips on Strategic marketing for your brand during COVID 19 we hope you apply it to your best ability. We want you to understand the importance your business has during this time. Don't let COVID 19 knock down the business you've built up. Be stern, be effective, be sensitive, and remember that all content matters.